2020
Despite the insanity that was 2020, Red Line Service programming continued, both before and, with all safety measures in place, after the advent of COVID-19.
Our first event in 2020 was a writing workshop on January 21. This was a nice way to reconnect in the new year, doing one of our favorite activities and tapping into the creative processes developed through the previous 18 months.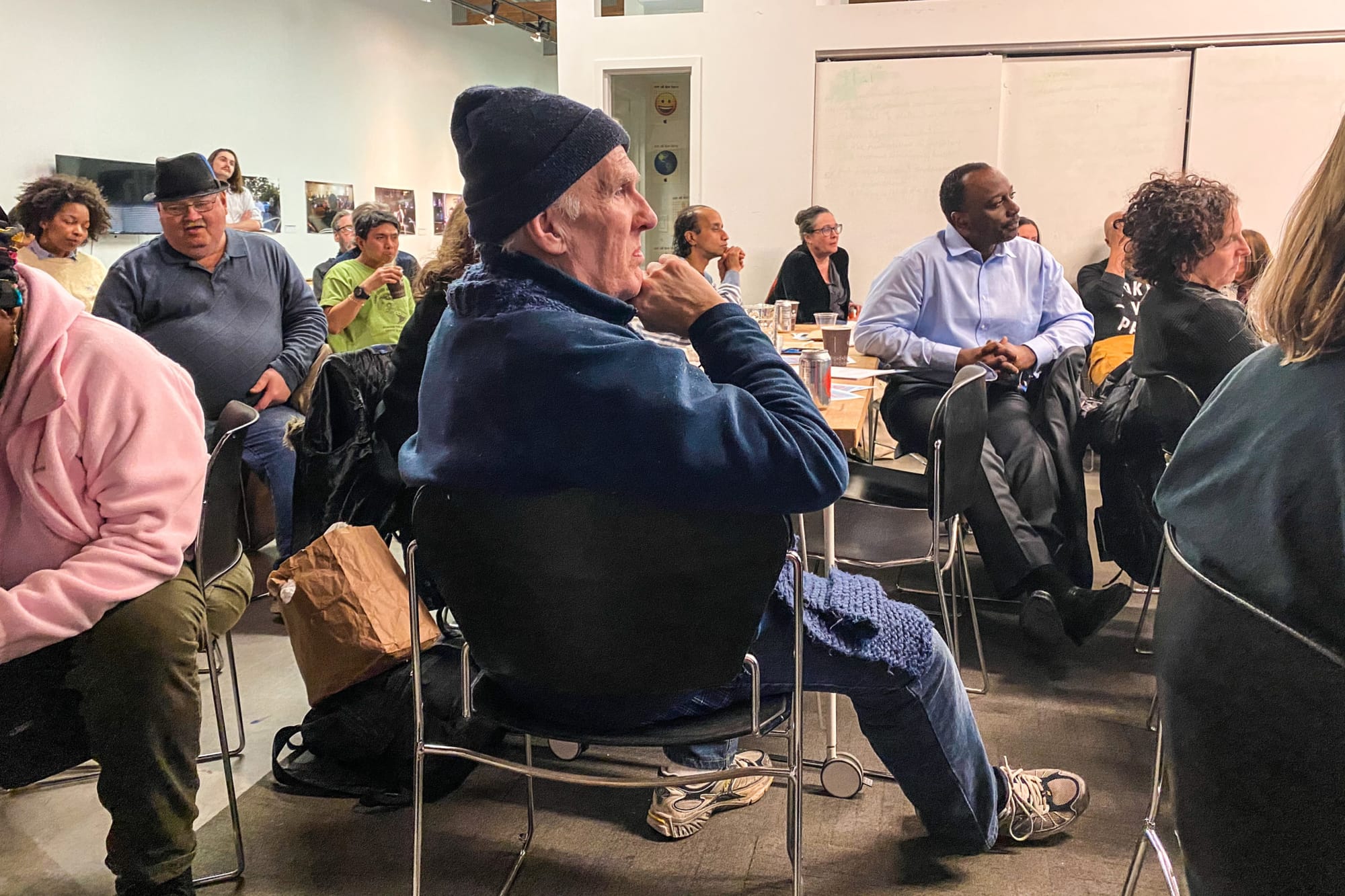 Courtesy National Public Housing Museum

Our next gathering in 2020 was a special event hosted in partnership with the National Public Housing Museum. On February 24, we shared a meal and conversation with one of today's most innovative and successful painters, Nathaniel Mary Quinn.
On July 16, we had our first in-person physically-distanced event. Tiffany Mitchenor, a meditation specialist who works with trauma survivors, led us in a guided meditation in the garden of the experimental art space, 6018|North. The event was well-attended and a very happy reunion for the Red Line Service community.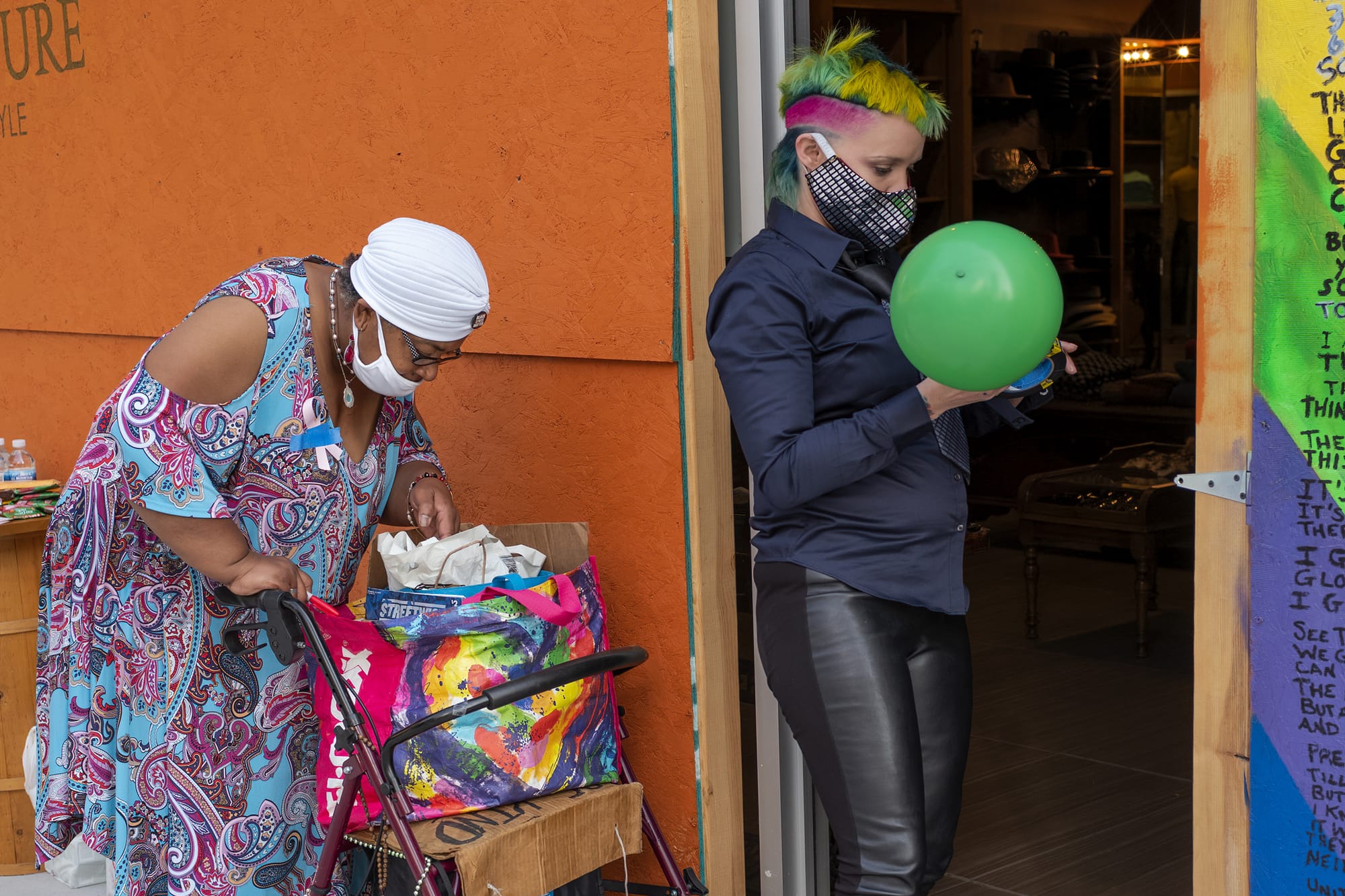 Big Mama (left) and Amanda
On October 10, we gathered to celebrate one of our own... Big Mama! The owner of Agriculture, a custom clothier in downtown Chicago, so loved Big Mama's poem, The Age of Coronavirus, that he offered her a panel on the boards outside his store to write excerpts from her poem and to decorate the panel. We were very happy to mask up and get together to see Big Mama's amazing writing turned into a piece of public art!
On October 24, we gathered for an amazing hula-hooping session with dancer, Gaea Lady, at Harrison Park. The day was a much-needed burst of joyful physical activity after seven months of shelter in place.
On November 6, we were very happy to gather with our friends from the Smart Museum, who invited us to visit Sweet Water Foundation. What an amazing place!
Our final event of the year, on November 26, was an outdoor Thanksgiving meal, conversation, short film screening, and poetry reading, made possible through the generosity of the Weinberg/Newton Family Foundation and with the help of our partners at the Public Media Institute. Some of us beamed in on Zoom, the rest of us gathered together in person. There was plenty of food and plenty of gratitude!
---
Art Histories 2.0
September-December 2019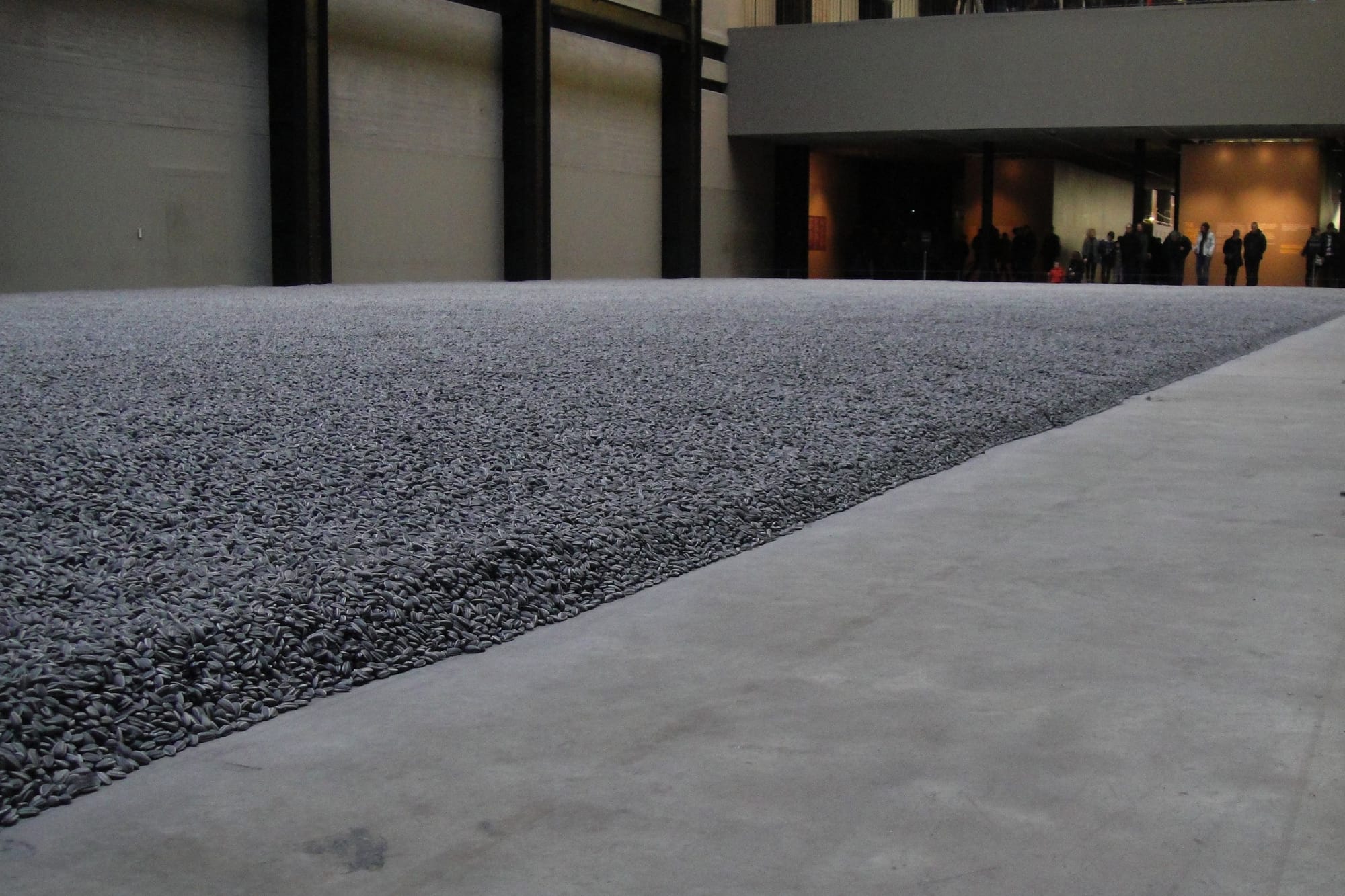 Installation view of Ai Weiwei's Sunflower Seeds, 2011
Building on past programming, Art Histories 2.0 provided opportunities for Red Line Service participants both to continue learning about art and also to share the work they created through the Art Histories writing workshops (see below).
Programming began on September 22 with a screening of the film Ai Weiwei: Never Sorry (2012). Along with the enjoyment of shared snacks, following the film a lively discussion was held during which one participant remarked, "The only other place in the city where this kind of conversation is happening is in a college classroom."
The next event, held on October 6, was a performance by Red Line Service writers of essays they had written and refined over the previous 12 months. Held outdoors at the McCormick Bridgehouse and Chicago River Museum, this celebration drew a crowd as one after another these incredible writers read their work. Hot soup and chili were enjoyed by all!
On October 19, we met at the Smart Museum for lunch, after which we joined the Botswanan artist Meleko Mokgosi in conversation first with a curator and later with a number of writers from University of Chicago. We returned to the Smart on October 27 for a discussion and workshop built around the exhibition Meleko Mokgosi: Bread, Butter, and Power.
On November 3, we met at the new location of the Weinberg/Newton Gallery where we enjoyed a reception and conversation between artist David Opdyke and author Lawrence Weschler.
We returned to Weinberg/Newton Gallery on November 28 for a special Thanksgiving celebration with Jerry Newton and David Weinberg and their family. Programming included a film about artist Jean-Michel Basquiat and, as always, lively conversation, delicious food, and the deep sense of community. It was wonderful to connect the Red Line Service family with the Weinberg-Newton family for a shared celebration!
Art Histories 2.0 culminated on December 15 with an event called The Art of Conversation, which included a panel presentation by and interview with Chicago-based artists Tonika Lewis Johnson, Sam Kirk, and Jeff Kolar. Followed by conversation and a light meal, the event was an incredible way to wrap up and celebrate the previous 18 months of programming.
Art Histories 2.0 was made possible by the continued support of The Reva & David Logan Foundation.
---
Art Histories
July 2018-June 2019
Installation view of the exhibition "African negro art," 1936. Photograph by Soichi Sumaini
Through nearly four years of working with Chicagoans with a lived experience of homelessness, Red Line Service (RLS) encountered, and cultivated, a community of participants with a wide-ranging cultural expertise. Inspired by the breadth of perspectives within this community, Art Histories expanded on previous programming, connecting participants with a seminar-style learning opportunity, including lectures by noted Chicago-based art historians followed by intensive writing sessions. The project ultimately manifested in an artist's book that challenged stereotypical narratives of poverty, expanded the boundaries of art criticism, and provided a platform for new art historical voices.
The project launched on July 12 with an introductory lecture by Delinda Collier, Associate Professor of Art History, Theory, and Criticism at the School of the Art Institute of Chicago (SAIC), followed by a shared meal and rich conversation. This first event was offered as an introduction to participants of the full lecture series. We are grateful to the Art Institute of Chicago for generously hosting the project.
A program orientation was held on September 10th at the Sullivan Galleries, including a lecture by Red Line Service Co-founders Rhoda Rosen and Billy McGuinness on the history of socially-engaged art, followed by a program overview given by participating artist Amanda Davis. Per usual, the event concluded with a delicious shared meal.
The full lecture series began in September, and included the following talks:
September 17 – Sullivan Galleries – Seth Kim-Cohen, Associate Professor of Art History, Theory, and Criticism at SAIC;
October 8th – Sullivan Galleries – Sampada Aranke, Assistant Professor, Art History, Theory and Criticism, School of the Art Institute of Chicago;
Ocetober 29 – Sullivan Galleries – Hannah B Higgins, Professor, Art History, University of Illinois at Chicago;
November 26 – DePaul Art Museum – Julie Widholm Rodriguez, Director, DePaul Art Museum; and
December 16 – 6018|North – Tricia Van Eck, Artistic Director, 6018|North.
Lectures were followed by writing workshops conducted by Amanda Davis on 9/24, 10/15, 11/5 and 12/3.
The project continued with a performance workshop at Weinberg/Newton Gallery on February 2. This was followed by a rehearsal on March 21 and a private performance of essays on April 7, both at Osteria via Stato. One-on-one consultations with essayists were ongoing from December 2018 through June 2019. The essays were released in book form in the fall of 2019.
This project was funded in part by grants from Propeller Fund and The Reva & David Logan Foundation. Shared meals at lectures were supported by The Art Institute of Chicago, Sullivan Galleries, Institute of Global Homelessness, and 6018|North. We thank all of these generous sponsors.

---
Field Trips
March 2017–March 2018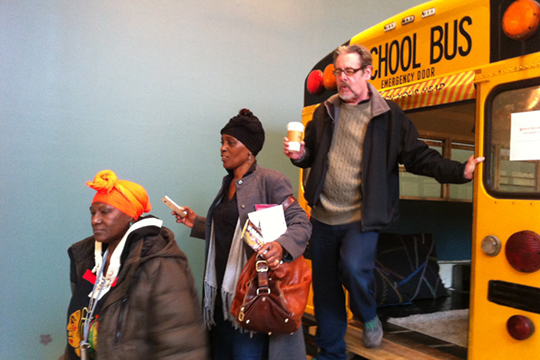 This year-long series of excursions to some of Chicago's most significant cultural venues was presented in partnership with the The Chicago Help Initiative. In keeping with RLS tradition, every visit included a meal, plus a VIP experience!
Trips included:
Lookingglass Theatre, where we saw Beyond Caring and enjoyed lunch with writer/director Alexander Zeldin and several cast members;
Hyde Park Art Center, where we experienced Public School and met with artist Jim Duignan;
The Field Museum, where we enjoyed a members-only opportunity to go behind the scenes and experience the fundamentals of collection stewardship;
The Smart Museum of Art, where we participated in Making a Place of Purpose, a Collection of Small Actions, a daylong event considering how sites of culture can function as spaces of belonging;
The Gene Siskel Film Center, where we screened Chasing Trane, the definitive documentary film about legendary musician and cultural icon John Coltrane;
The Museum of Contemporary Art Chicago, for a tour of Chicago Works: Amanda Williams led by Curatorial Assistant Grace Deveney, followed by dinner on the back patio, where we enjoyed the music of jazz pianist Willie Pickens with Christian Dillingham on bass and Robert Shy on drums;
The Garfield Park Conservatory, for a guided tour of the extraordinary flora and a catered lunch from the famous Manny's Deli;
A Mercury Cruises boat tour of the Chicago river, Lake Michigan, and the amazing lock system that connects them, plus a shared meal at Beacon Tavern with architect Odile Compagnon, who shared with the group some of her favorite Chicago buildings and an insider's guide to the Chicago Architecture Biennial;
Shaw Chicago Theater Company, where we saw The Devil's Disciple;
The Second City, where we participated in a workshop led by the amazing Dionna Griffin-Irons, Director of Diversity and Inclusion for The Second City U.S. and Canada, followed by a delicious lunch catered by Marcello's and a matinee performance of The Best of The Second City;
The Art Institute of Chicago, where we visited with Department of Photography Assistant Curator Michal Raz-Russo, who guided us through Dress Codes: Portrait Photographs from the Collection, joining us afterward for dinner and a great conversation; and
The DuSable Museum of African American History, where we were treated to a very informative personal tour by Director of Education Erica Griffin and a film about the civil rights movement, plus a visit with Executive Director Perri Irmer over a delicious BBQ lunch from Leon's.
We ended where we began, at Lookingglass Theatre, where we saw Plantation and enjoyed lunch with several cast members and Lookingglass Connectivity and Engagement Director, and good friend, Andy White.
---
Winter Break
Tuesday, December 12, 2017 from 1:30 to 4pm
Smart Museum of Art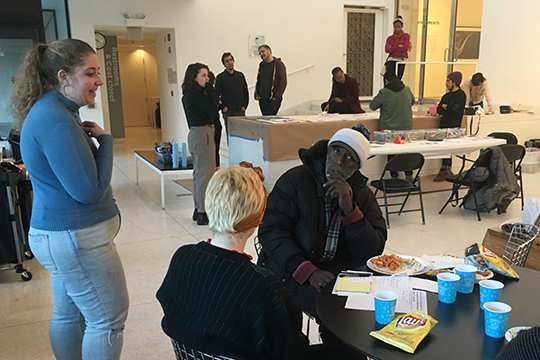 At the end of 2017, we were delighted to once again bring the project to our South Side hub, The Smart Museum of Art, for an event planned and executed by Red Line Service students from the School of the Art Institute of Chicago. The day included lots of homemade food, an impromptu blues performance, and various interactive art activities created and hosted by students.
---
Making a Place of Purpose, A Collection of Small Actions
Saturday, May 20, 2017 from 12pm to 8pm
Smart Museum of Art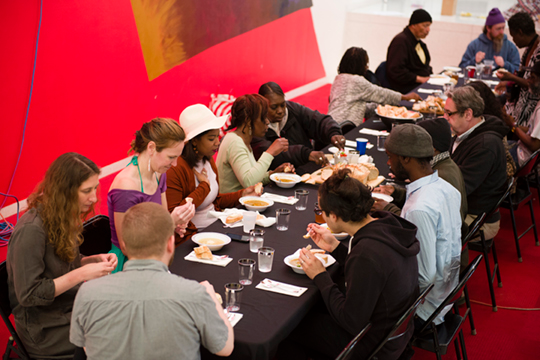 We were honored to be a part of the
Belonging Collective
, Smart Museum of Art Interpreters in Residence during the 2016/17 season, and to contribute to the daylong culmination of that partnership on Saturday, May 20. Along with participants in the Red Line Service: Field Trip program and other friends, with celebrated belonging by cooking and eating together two delicious soups, inspired in part by
Alison Knowles' Variation #1 on Proposition
(1964).
---
House
January 27–March 25, 2017
Weinberg/Newton Gallery
300 W Superior St, #203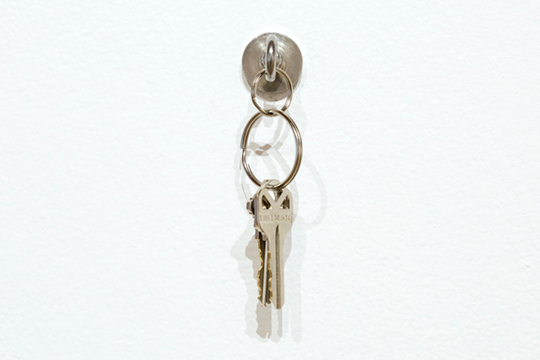 house (houz) verb
1. to receive into a house, dwelling, or living quarters
2. to give shelter to; harbor; lodge
3. to furnish with a place to work, study, or the like
4. to remove from exposure; provide a safe place
We were very happy to partner with the incredible Weinberg/Newton Gallery to present our most ambitious undertaking to date, House. For this unconventional exhibition, most of the budget was spent on providing housing for one year to two Chicagoans experiencing homelessness. The gallery was, therefore, necessarily quite bare. Nevertheless, we used the walls to conduct a conversation about socially engaged art, the nature of visual representation and, most importantly, what we can do to end homelessness. With the exhibition, we invited gallery visitors to engage in this conversation and to act on this issue.
While its causes are complicated, ending homelessness is simple. We have the know-how and the resources to do so. We lack only three things: imagination, a shared sense of personal responsibility and political will.
---
Speaker Series @ Sullivan
September/October, 2016
Sullivan Galleries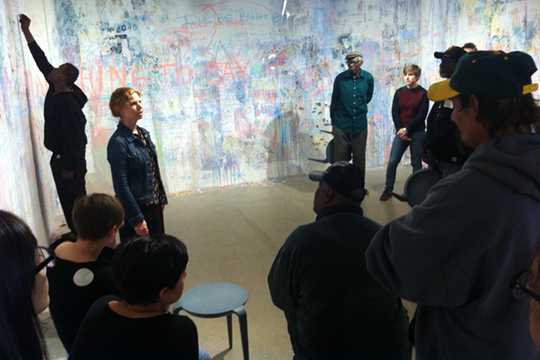 On Friday, September 30, the Speaker Series traveled to Sullivan Galleries at the School of the Art Institute of Chicago for lunch and a tour of the exhibition
Painting in Time: Part 2
, with talks by two of the artists in the show,
Dylan Fish
and
Jaclyn Mednicov
, and Assistant Director of Exhibitions Hannah Barco. On Friday, October 14, the Speaker Series returned to Sullivan for lunch and a panel discussion on the current housing crisis in Chicago with
Audrey Petty
, author of
High Rise Stories: Voices from Chicago Public Housing
, and J. R. Fleming, co-founder and director of the
Chicago Anti-Eviction Campaign
.
---
Sleepover @ the Smart 2016
Saturday, August 13 at 8pm to Sunday, August 14 at 12 noon
Smart Museum of Art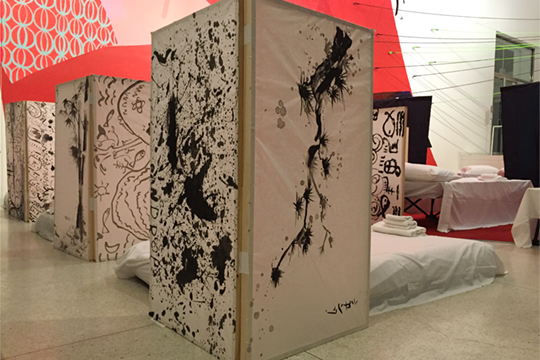 After Summer Festival 2016, five Chicagoans in transition, members of the Smart Museum of Art staff, and Red Line Service Co-directors Billy McGuinness and Rhoda Rosen spent the night in the museum lobby. After gathering in the galleries for a group conversation (the third installment of RLS: Speaker Series @ the Smart), the group enjoyed a nightcap of beer, wine, and cookies. Smaller, more intimate conversations followed, as one by one members of the group turned in for the night. The next morning included a full pancake breakfast, and the event concluded with lectures by students of the Odyssey Project on their summer research.
Summer Festival 2016
Saturday, August 13 from 3pm to 8pm
Smart Museum of Art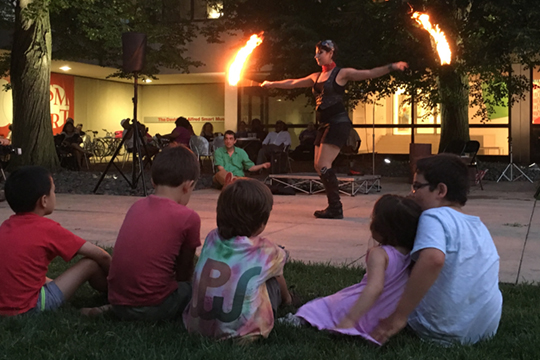 Red Line Service was thrilled to partner with the Smart Museum of Art to present Summer Festival 2016, as part of the museum's "In Anticipation of Belonging" summer programming series. Over 100 people attended this fantastic celebration of community, with free food & drink, family activities, live music, spoken word poetry, fire spinners and more! The event was free and open to the public, but a special invitation was extended to those currently in transition.
---
Speaker Series @ the Smart
August 2016
Smart Museum of Art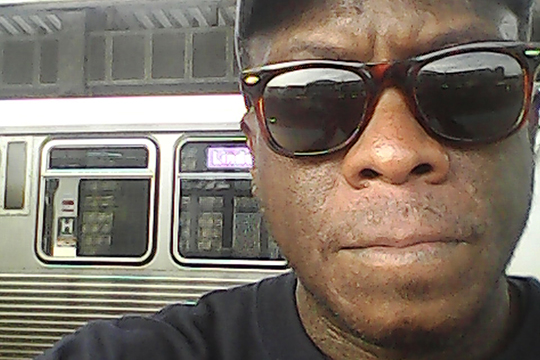 Red Line Service was very proud to bring its Speaker Series to the Smart Museum of Art at the University of Chicago for three intimate conversations about life in transition hosted by Red Line Service participant David Morris. Talks were given on: 8/4, 8/11 (with lunch provided), and 8/13.
---
One Table
May 10th, 2016, 6:30-9:00pm
Weinberg/Newton Gallery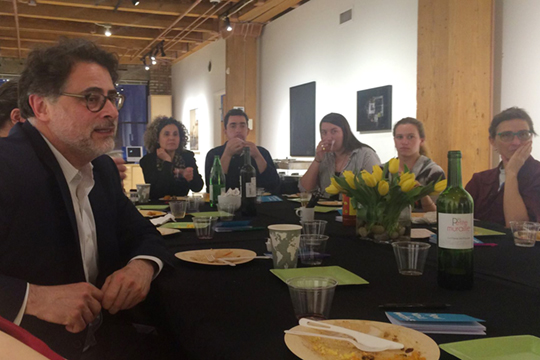 One Table brought together Chicagoans currently in transition and cultural leaders from around the city to share a meal and talk about models of access to the city's cultural institutions. Conceived as a 'soup for the mind' project, Red Line Service operates on the assertion that cultural and intellectual enrichment is a central component of any full life. We believe that feeding the body is necessary but limited, while providing nourishment for the hungry mind allows people to look beyond mere survival to conceive and build alternative realities. To coincide with the Chicago Community Trust's annual On the Table program, we invited stakeholders in the cultural life of the city to break bread and collectively imagine the institutional support that might be offered to all Chicagoans seeking a sense of cultural belonging. The evening began with the beautiful music of cellist Kyra Saltman.

Special thanks to Peach and Green and Weinberg/Newton Gallery for their generous support of this event.
---
Soup for the Mind
January 30 – March 5, 2016
6018|North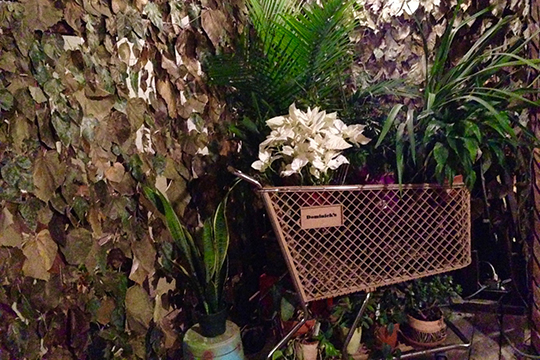 An exhibition and programming series inspired by the Bryant Settlement Agreement concerning Chicagoans in transition. This agreement, in an attempt to restrict the widespread and routine disposal of people's belongings by city authorities, lists what can and can't be legally possessed by segments of Chicago's homeless population. The exhibition and programming encouraged the viewer to consider what constitutes a home.

Saturday programming every 2:30pm from January 30th to March 5th included meals and film screenings at 6018|North. Visitors with the means to do so were invited to donate items that Chicagoans in transition are allowed to possess under the Bryant Settlement Agreement. These included gloves, hats, socks, boots, coats, blankets, sleeping bags, suitcases.

Special thanks to Ann Sathers, Robert Alexander, Tina Golas, Tricia Van Eck and Women & Children First for their generous contributions to this project.
---
Speaker Series

Speaker Series: Volume 7
December 16, 2016, 2:30-4:00pm
Weinberg/Newton Gallery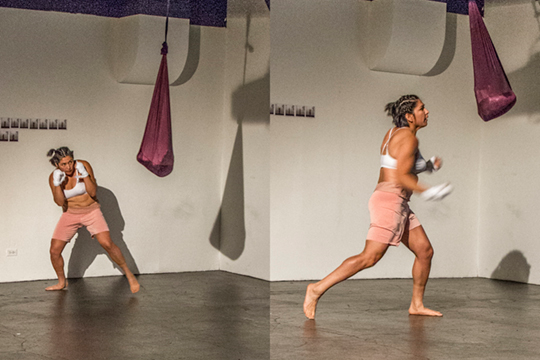 On Friday, December 16, Weinberg/Newton Gallery hosted the seventh installment of the Speaker Series. Artist
Marcela E. Torres
hosted a self-defense workshop that was both empowering and fun. Lunch was served, and as always, a special invitation was extended to those currently in transition.
Speaker Series: Volume 6
September 23, 2016, 2:30-4:00pm
Weinberg/Newton Gallery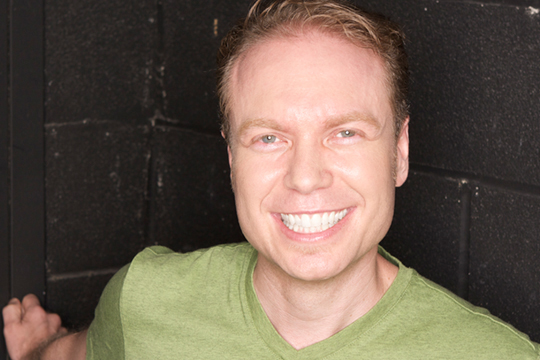 On Friday, September 23, the Speaker Series returned to Weinberg/Newton Gallery with its sixth installment. Comedy artist
Jeff Gandy
hosted an improve workshop. Many good laughs were had by all.
Speaker Series: Volume 5
July 25th, 2016, 2:00-4:00pm
Weinberg/Newton Gallery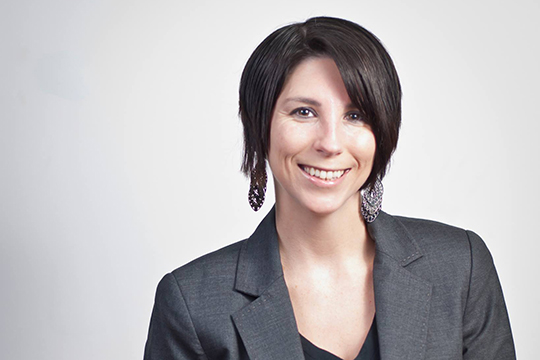 On Monday, July 25 we were happy to bring back the Speaker Series with a dance workshop by
Shawn Lent
. There was a very good feeling in the room as we acknowledged our bodies, stretched and moved together for a gentle hour. Many participants commented that it was our best event yet!
Speaker Series: Volume 4
March 25th, 2016, 2:00-4:00pm
Weinberg/Newton Gallery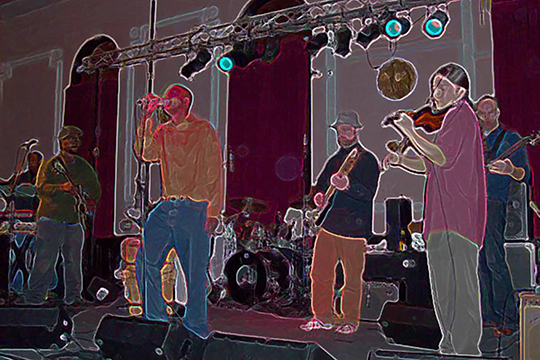 The Speaker Series kept rolling on Friday, March 25 with a soul shaking jam by musical guest
Alpha and the Princes of Futa
, plus a special performance by violinists Louisa Blood and Isabelle Rozendaal.
Speaker Series: Volume 3
January 29, 2016, 2:00-4:00pm
Weinberg/Newton Gallery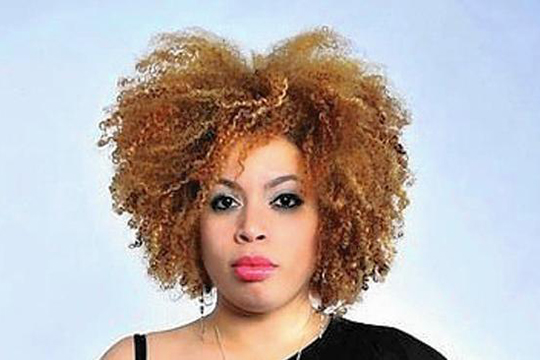 On January 29, we were very happy to present a performance and talk by a Chicago-based DJ, sound artist, and curator
Sadie Woods
, and her special guests.
Speaker Series: Volume 2
December 18, 2015, 1:30-3:30pm
David Weinberg Photography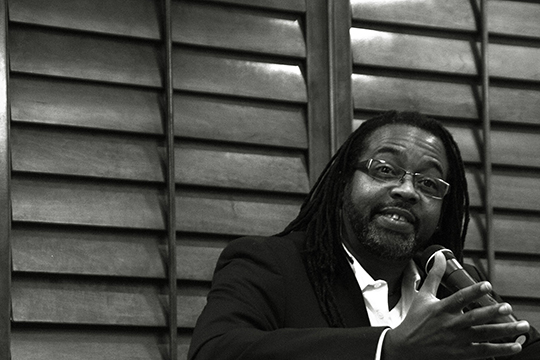 The series continued on December 18 with a presentation by celebrated Chicago-based poet Quraysh Ali Lansana. Attendance rose to over 100, and a handful of audience members were inspired enough to share their own poetry, which was truly amazing!
Speaker Series: Volume 1
November 6, 2015, 1:30-3:30pm
David Weinberg Photography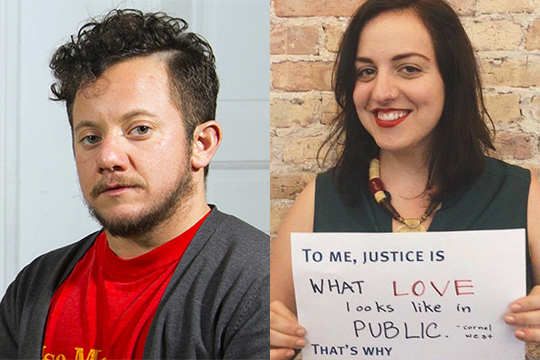 The series kicked off on November 6 with talks on the politics of visibility by artist
Oli Rodriguez
and activist Rachel Shrock of
Human Rights Watch
. Over 50 attendees enjoyed fascinating presentations, stimulating conversation and a delicious lunch.
Red Line Service: Speaker Series is inspired by the Chicago Hobo College that operated during the early part of the 20th Century, offering basic services to homeless and itinerant workers, plus lectures and presentations by leading minds of the day. Building on that history, providing informal artistic and intellectual programming to Chicagoans currently in transition (along with their "housed" counterparts), we strive to create a community of care wherein all citizens enjoy access to the cultural riches that fire the imagination and feed the human spirit.
Special thanks to Chicago Coalition for the Homeless, The Chicago Community Trust, Katten Muchin Rosenman LLP, Stanley's Fruits and Vegetables, Starbucks and Weinberg/Newton Gallery for their generous contributions to these events.
---
Comfort Station
February-April 2015
CTA Red Line Stations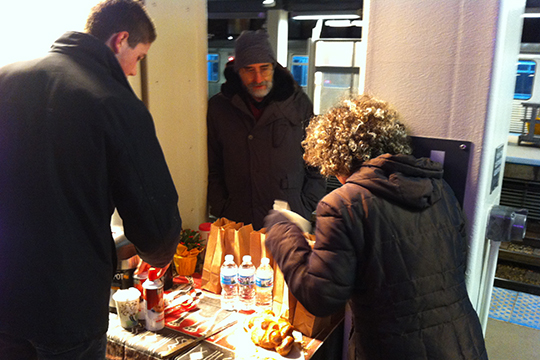 In response to statistics issued by The Chicago Coalition for the Homeless, which currently estimates the number of Chicagoans in transition at an inexcusable 125,848, Red Line Service launched Comfort Station, a platform, literally and figuratively, to connect with one segment of that population, overnight or "continuous riders" of the CTA. Once a week, during the coldest months of the year, we invited continuous riders to make themselves at home and dine with us at either end of the Red Line. Laying out chairs, table, tablecloth, flowers, and hot, home-made food, together we shared meals and engaged in conversation at the Howard and 95th Street 'L' station platforms from midnight to dawn.

Special thanks to Awesome Foundation, Billy (the drug dealer) & His Friends, Burrito Man, Diab (the Uber driver), Eastern European Man, Julie Parson-Nesbitt, Stranger on the Train, and Toussaint for their generous contributions to this project.